Good system management starts with good preventive maintenance procedures and record keeping. This can be done during maintenance programs such as fertilizer or chemical applications where irrigation is required, or the heads can be brought on-line for a few seconds and observed for proper operation. However, maintaining a system is more than just fixing heads. It also includes documenting system- and maintenance-related details so potential problems can be addressed before expensive repairs are needed. Documentation also provides a basis for evaluating renovation or replacement options. Being proactive includes addressing larger issues if the system requires frequent repairs and determining the cause of failures. For example, pipe failures may be caused not only by material failure, but also by problems with the pump station; wiring problems may be caused by corrosion, rodent damage, or frequent lightning or power surges; and control tubing problems can result from poor filtration.
Best Management Practices
Document equipment run-time hours.
Document and periodically review the condition of infrastructure, such as pipes, wires, and fittings.
Follow the manufacturer's recommendations for system checks and routine maintenance.
Routinely inspect the system for proper operation by checking computer logs and visually inspecting the pump station, remote controllers, and irrigation heads.
A visual inspection should be carried out for leaks, misaligned or inoperable heads, and chronic wet or dry spots, so that adjustments can be made or parts replaced.
Flush irrigation lines regularly to minimize emitter clogging. To reduce sediment buildup, make flushing part of a regular maintenance schedule. If fertigating, prevent microbial growth by flushing all fertilizer from the lateral lines before shutting down the irrigation system.
Check filter operations frequently. An unusual increase in the amount of debris may indicate problems with the water source.
Clean and maintain filtration equipment.
Keep records of filter changes, as this could be an early sign of system corrosion, well problems, or declining irrigation water quality.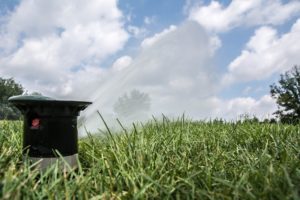 Irrigation heads can be brought on-line for a few seconds and observed for proper operation. Photo credit: Mark Jones.